When it comes to opening a charity bank account, there can be a lot to consider. How your charity operates, where it conducts the majority of its activity, how much finance you have, the donations you handle and much more all need to be thought about carefully. That's because, when you run a charity, having a reliable bank account is one of the most important considerations when it comes to your day-to-day work.
It's a smart move, too. While a standard personal account can be used, it's hardly appropriate or practical, as finances and donation movements can quickly get confusing and your financial health may suffer.
Take some time to consider what sort of account will work best for your charity. Savings accounts, while stricter with withdrawals, benefits from higher interest rates. On the flip side, current accounts provide instant access.
To help answer this — and much more — this guide will walk you through 14 charity and community bank accounts to consider in 2020, partnered with an explainer and FAQ troubleshooter to break down everything you need to know. We've listed these accounts in order of their Trustpilot rating to make it easier for you to navigate.
Every care has been taken to provide accurate info on each account provider. All facts and stats are right (according to the public websites) as of January 2020.
Key questions answered in 60 seconds:
Which is the best charity and community bank account for me?
| Company | Fee | Requirements | Trustpilot Score |
| --- | --- | --- | --- |
| Metro Bank | Free | Annual turnover under £2m | 3.9/5 |
| Triodos | Free | Turnover of £5,000 or more | 3.4/5 |
| The Cooperative Bank | Free | Annual turnover under £1m | 2.1/5 |
| Lloyds | Free | £50,000 annual turnover | 1.8/5 |
| Bank of Scotland | Free | Annual turnover under £50,000 | 3.1/5 |
| Barclays | Free | Turnover of less than £100,000 | 1.8/5 |
| HSBC | Free | Annual turnover under £100,000 | 1.6/5 |
| Santander | Free | Annual turnover below £250,000 | 1.6/5 |
| NatWest | Free | Annual turnover below £100,000 | 1.5/5 |
| Royal Bank of Scotland | Free | Annual turnover below £100,000 | 1.3/5 |
| Unity Trust Bank | Free | Annual turnover of up to £100,000 | - |
| Charities Aid Foundation | Free | Open with £1,000 | - |
| Reliance Bank | Free for first six months | Turnover below £500,000 | - |
1. Metro Bank
Simple charges and no monthly maintenance fees
200 free transactions each month
Free giant cheques
Open 7 days a week, no appointments necessary
Access to relationship managers or local directors
Manage your charity bank account online or on your mobile
Metro Bank's charity bank account offering include clear charges, with zero monthly maintenance fees. It's a cost effective charity bank account offer, as it offers 200 free monthly transactions, and access to branches and banking experts seven days a week. Metro Bank's support lines are open 24 hours a day, giving flexibility to charities and organisations who need access to services outside of regular hours.
2. Triodos
700,000 customers
Sustainable approach to banking
Focuses on organisations with a positive impact on society, culture and the environment
Part of a growing community of like-minded charities
Manage account online, or by phone or post
Discounted tariffs
Loans up to £500,000
Personal relationship managers
Designed for savers, investors and organisations who 'want to change the world for the better', Triodos' Charity Bank Account is focused on changing the world, a mission statement that aligns with many UK charities and non-profits. With its charity bank account, Triodos offers the opportunity to benefit from a personal relationship manager based in Bristol.
3. Cooperative Bank
Access to services at Post Office branches
Free business transactions
Current Account Switch Guarantee
Apply for project funding from Cooperative's Customer Donation Fund
Customer-led Ethical Policy
24/7 Online access and telephone banking
The Co-operative Bank's ethical policy makes it an attractive charity bank account choice for charities, clubs, places of worship and societies. To be eligible, customers must turn over under £1m annually. However, customers depositing over £100,000 cash and 5000 cheques each year may not be eligible and could be switched to an alternative tariff. Cooperative's Customer Donation Fund gives customers the opportunity to apply for project funding up to £1000.
4. Lloyds
Two types of charity bank account: Treasurer's and Credit Union bank accounts
Day-to-day business banking
Mobile banking and internet banking
Monthly statements
Free presentation cheques
Multiple signatories
Support and guidance from Lloyds experts
For their charity bank accounts offering, Lloyds offers two options — a Treasurer's Account and Credit Union Account. The Treasurer's Account offers free day-to-day banking (including direct debit, cheques and standing orders) for charities and organisations turning over under £500,000 annually and is simple to start with monthly statements and access to direct debit options and additional signatories.
The Credit Union Account from Lloyds is slightly different, offering free day-to-day banking to charities and not-for-profit organisations operating with an annual turnover of under £3m. Cash deposits are cleared the same day.
5. Bank of Scotland
For small, non-profit organisations with a turnover below £50,000
Free day-to-day banking
Support from Bank of Scotland's Business Management Team
Zero charges for day-to-day debit and credit entries
Easy to add new signatories
Access account online or over the phone
Bank of Scotland makes it easy for treasurers, clubs and societies to open an account if the annual turnover is under £50,000. Bank of Scotland's Business Management Team are on hand to help manage the charity bank account, which features easy direct debit and standing order facilities. Bank of Scotland also support customers with ongoing support for charity and community banking.
6. Barclays
Free, everyday banking for small not-for-profit organisations
Barclays Service guarantee
No maintenance fees
Guidance from Barclays' 'Digital Eagles'
Access to Barclays LifeSkills suite
Access to PingIt, an app for personalised fundraising pages
Up to six debit cards
Cheque book
Free everyday banking
Barclays' offering for charity bank accounts is an attractive one, offering customers the opportunity to access various digital tools, platforms and experts to help charities and non-profits get the most out of the account. This includes Barclays' 'Digital Eagles' – a team of experts that help customers navigate online banking with educational materials and events. The charity bank account includes free day-to-day banking and zero monthly maintenance fees for charities with a turnover of less than £100,000.
7. HSBC
Monthly or quarterly statements
Free banking for places of worship
Free banking for charities turning over £100,000 annually
Trustee guide access
HSBC Knowledge Centre
Manage your account in branch, by telephone or on text
Suitable for clubs, charities, places of worship, societies and more, HSBC's charity bank account offers a choice of banking methods and access to HSBC's Knowledge Centre, an online magazine and information centre. To be eligible, a turnover of under £100,000 is required, but there is no income cap for places of worship.
8. Santander
Free day-to-day banking
Specialist savings account
Online account management
Organisations with a turnover of up to £250,000 are eligible
Option for three signatories
Secure Online and Mobile Banking
Online support and guidance
Full banking facilities
Minimum opening deposit of £1
Access to Business Relationship Managers
Santander has made it easy for charities to establish a bank account for day-to-day operations, including specialist savings accounts, online account management, secure banking and online and mobile banking. Santander customers can also pay in, withdraw cash, deposit cheques and more at Post Office branches.
9. NatWest
24/7 Online Banking and Phone Banking
Free banking if your turnover is up to £100,000
Visa debit card
Text alerts
Current Account Switch Guarantee
Award-winning banking app
If your charity, society or club has an annual turnover of under £100,000, NatWest's charity bank account is worth considering. Small businesses can benefit too, with free day-to-day banking for 18 months. Backed by the current account switch guarantee, customers will have access to NatWest's servicing hub and get instant access to accounts, loans, credit cards and other business services.
10. Royal Bank of Scotland
Mobile banking app
Text and email alerts
Current Account Switch Service
Current Account Switch Guarantee
Free banking with £100,000 turnover
24 months free banking for startups
Visa debit card
Direct debits
Available to places of worship
Support and alternative funding
Designed to help Scottish charities and non-profits flourish, Royal Bank of Scotland's community bank account is backed by the current account switch guarantee and offers free banking for organisations with £100,000 turnover or under.
12. Unity Trust Bank
Supports thousands of charities
Links to Charity Law Association and Charity Finance Group
Backed by parish, community and town councils
24/7 access to account services
UK-based Customer Service team
Unity Trust bank helps help organisations, charities and businesses to prosper and contribute to economic, community and social change. A relatively new company on the scene, Unity is already getting attention from councils and thousands of UK charities, with a UK-based service team which solves around 90% of issues on the first attempt.
13. Charities Aid Foundation
A current account for charitable and not-for-profit organisations
UK-based Customer Service team
CAF Bank is owned and operated by a charity
Profits are reinvested into the charity sector
Easy online banking with dual-factor authorisation
Pay in cash and cheques at HSBC branches or the counter service at any Royal Bank of Scotland
Overseas payments
Worldpay partner
Customers can open a CAF current charity bank account with £1000. Services include dual-factor online banking, counter access in HSBC branches, RBS branches (in Scotland) and at the Post Office. Using a CAF charity bank account, customers can also make payments overseas and pay people for goods using Worldpay.
14. Reliance Bank
Six months free banking
Corporate VISA debit card
Customer Service team based in the UK
Paper or paperless quarterly statements
Internet banking
Pay money through Lloyds, Barclays, HSBC or Bank of Scotland
Reliance Bank's charity bank account includes six months of free banking if the customer stays in credit, as well as a corporate VISA Debit card, business lending and overdraft facilities. It's suitable for charities with an annual turnover of less than £500,000. Organisations with a turnover of £500,000 or more will be subject to review and placed on an appropriate tariff.
FAQs about charity and community bank accounts
Can you use a personal current account for a charity?
Technically speaking, yes you can use a personal current account for a charity bank account. However, it makes more sense to keep personal and business finances separate.
Some new or young charities struggle at first due being unable to join the charity commission until they have £5000 or more, but some charity accounts can't be opened without a charity number from the commission. Because of this, many start-up charities will register using a business bank account under the name of the business.
Is my charity eligible for a charity bank account?
Generally, each charity bank account will have varying rules on what's needed to apply, but there are several common criteria.
To open a charity bank account, you must be:
A charity registered with the Charity Commission
A society, club or community group
A community and amateur sports club
A place of worship
If you meet these criteria, the rules on your charity bank will be influenced by your employee count, your turnover and how your organisation operates.
What do I need to know about charity bank account fees?
Most of the banks listed above have zero monthly fees, but keep an eye out for fees on cash withdrawals and holding cash.
Is my money safe in a charity bank account?
The Financial Services Compensation Scheme (FSCS) ensures that if a bank folds and ceases trading, compensation will be paid to the affected customer. However, it's a good idea to check of your charity is eligible as not all are.
The FSCS may exempt certain charities from its coverage and eligibility, and will consider various factors when deciding on compensation. These include employee count, turnover and balance. Some charities will be protected by the FSCS for up to £85,000 in the event of the bank going insolvent.
How much money can a non–profit or charity have in a charity bank account?
Most high street banks offering charity bank accounts will cap the amount of cash that can be held in the bank before incurring charges. The highest we've seen is Metro Bank, which allows customers to bank up to £2m in annual turnover before re-assessing options.
Borrow £1,000 - £200,000 for cash flow, stock or investments. Fast and fair decisions.
Get approved for free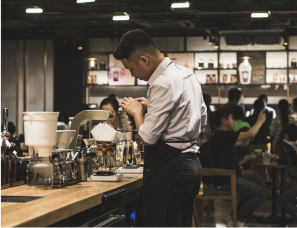 When it comes to charity bank accounts, there's a lot to consider. Even if your charity, club, group or place of worship is already signed up, it could make sense to switch to a provider that's more suited to your banking needs.
On the other hand, if you're starting a charity or just want to separate your finances with a charity bank account, be sure to shop around and make decisions based on what you need. There are plenty of perks to be found and charges to avoid, so use our guide to find what works to help your charity run efficiently.