Make settling up simple
Take payments anywhere without fees. Let business customers spread the cost. Get the funds as soon as they checkout.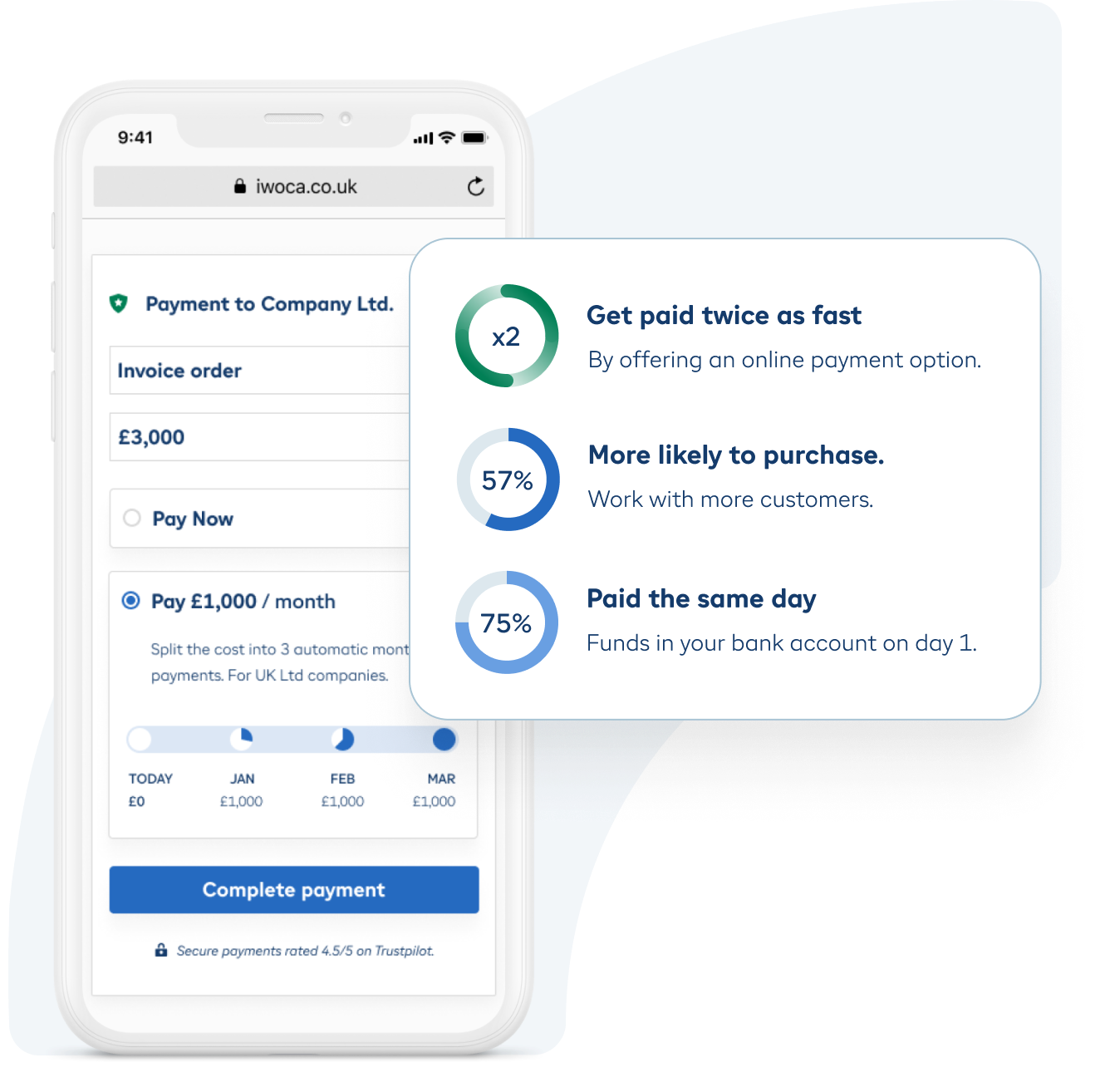 Get paid on your terms, everytime
Give your business customers more choice and keep control of costs. Take all your payments through iwocaPay for free or stand out from the competition and give your business customers interest free extended terms - for all of them, or just a special few.
Free for you
Free for your customers
Bank transfers
Cards

Built in payment terms

For business customers

90 days

Checkout experience

Clicks to pay

23

20

10

3 clicks

Trustpilot rating

NA

NA

Days to receive funds

Up to

3

business days

3

business days

21

days

always instant

Transaction fees

free

1 to 3.3% + 3p

and £5 to 30 pm

2.9 to 3.4%

+ 30p

free
90 days

Offer Pay Later, you get paid up front.

3 clicks

Payments via online banking on mobile or desktop.

4.5 star Trustpilot review

always instant

You get the funds to your bank account within seconds.
It's always free for you and your customer if they Pay Now.
Instant payouts.
As soon as your customers checkout we'll settle 100% of your invoice - we'll never ask for the money back if they don't pay us.
Set up with clicks, not code.
Offer flexible terms and get paid by link. Set up once, send your pay link and you're good to go, no coding needed.
Control your costs.
Take payments without paying a penny or let business customers spread the cost over 90 days interest free.
Instant payouts.
Powered by Faster Payments - you get 100% of your funds in your account as soon as they checkout.
A smart alternative to card payments.
No fees, no interest, no failed transactions, just instant secure payments from their bank to yours.
Always free for everyone.
It's always free for you and your customer to settle up with Pay Now.
How it works for customers
Work with more customers.
Offer more flexibility around how customers pay without taking on the risk.
Supercharge their purchasing power.
Let your eligible business customers split the cost into 3 equal monthly repayments. You decide if it's interest free for them or at a monthly interest rate.
How e-catering boost their e-commerce sales
Offer a better service.
Give payment terms to suit your customers and build stronger relationships.
Let customers pay wherever they are.
All they need is an internet connection and your paylink. Settle in a few clicks or by scanning a QR code.
Simple, streamlined and secure.
We pre-fill the details and take them straight to their bank account to make paying seamless.
Upgrade your payment experience.
Make settling up feel just as slick as everything else you do.
Anastasia Ward
Fresh Law Ltd
iwocaPay is a lifesaver for us and our clients! Without iwocaPay there would be no Fresh Law. If you are a business providing goods or services to other businesses - this is a lifesaver! Awesome customer service too...